The Public Private Lives of Teens
For this week's readings, I took off the educator hat and put on the mom one! I have two teenage daughters, and, like most moms, I struggle with how to best guide them on their journey of growing up.  The instinct is to protect them from all harm so they never suffer. I am afraid of them making an irreversible mistake and not being able to do anything about it. And, I can easily see how this can become a reality in their ever-more-important digital lives. Logic tells me that because they are adolescents with developing prefrontal lobes they are more prone to venturing, experimenting and making mistakes.  This is the first generation that doesn't know life without the internet, and, at the same time, they have digital-immigrant parents that for the first time are raising digital-native adolescents.  The generation gap is so vast that we need all the help in the world to understand each other.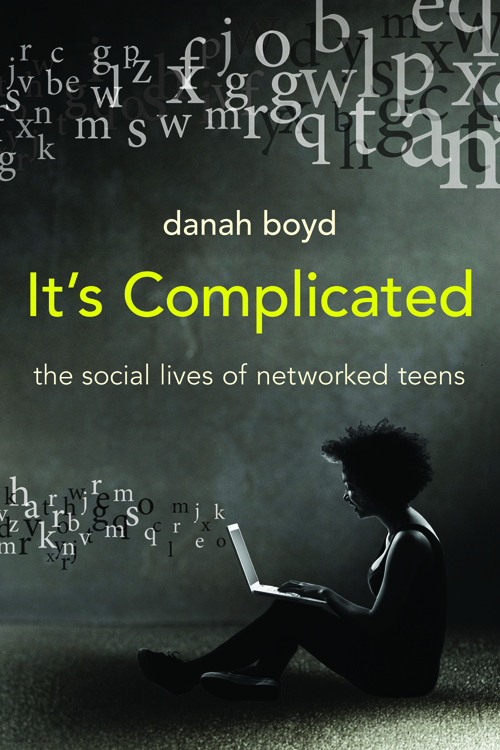 Social Media is so important for my teenage daughters that they cannot be separated from their phones for long. I have had lengthy conversations about the need to set limits and ban their phones at certain times. (e.g. dinner, weekend outings, extended family gatherings, sleeping time, etc.)  Thinking about this insatiable need to always be connected,  I came to accept that adolescents need a space of their own, away from parents and adult intervention, and social media does fulfill this purpose. When I was their age, I also preferred to be with my friends and loved to go to a nearby park in our neighborhood, not returning home until dark.   Because we didn't have cell phones, tracking apps, and instant messaging systems, our parents didn't  know our every move (how lucky we were). We were involved in risky behavior, experimenting and we also made mistakes without our parents' knowledge.  The adolescents of today are in need of the same thing, and Danah Boyd, in her book, It's Complicated, writes that it has become more difficult to find privacy due to the digital footprint that every online interaction leaves; everything is more visible nowadays.
Social media enables a type of youth-centric public space that is often otherwise inaccessible. But because that space is highly visible, it can often provoke concerns among adults who are watching teens as they try to find their way.
So how do we help teenagers navigate their digital lives?  What is my role as a parent?
In her article, Parents: Reject Technology Shame, Alexandra Samuel writes that welcoming technology into homes instead of vilifying it may be the answer.  She conducted surveys gathering data from more than 10,000 parents and discovered that the style of digital parenting that may help current generations to navigate the world of technology may be the digital mentor parent, who:
Talk to children about technology
Have open discussions about internet rights and responsibilities
Research about devices and different apps
Connect with their kids through technology
Play video games
Alexandra Samuel also found out that children who had a mentor parent who helped them navigate the different aspects of technology were less likely to get in trouble when venturing online.
In my home, as a mom, I do want my two daughters to be well-versed in the different aspects of digital citizenship. I want them to be safe and respectful and to see media with critical eyes by questioning the sources. However, what I would like the most is for them to see the internet as a powerful tool that may amplify their voices. I want their digital footprint to be a reflection of their passions and interests as Tanner Higgins writes in this blog:
It's important for students to create media so that they can work through their perspectives and make the world more representative of their views.
Going back to the incessant need of my daughters to be attached to their phones, last summer we visited Venice and my older daughter (she is 16) recorded original footage, edited and posted a video in her Facebook page (see it below) for her friends to comment. After seeing it, I didn't have another choice than to conclude that even though the digital lives of adolescents could bring a lot of apprehension in parents, it is invaluable to realize that they can use technology to create and showcase their unique point of view.  They could even become digital activists and collaborate for a world more fair and just!
Venice by Sara Long on Facebook (I did get her permission to post it.)